Pavel Shalman & Boki Radenkovic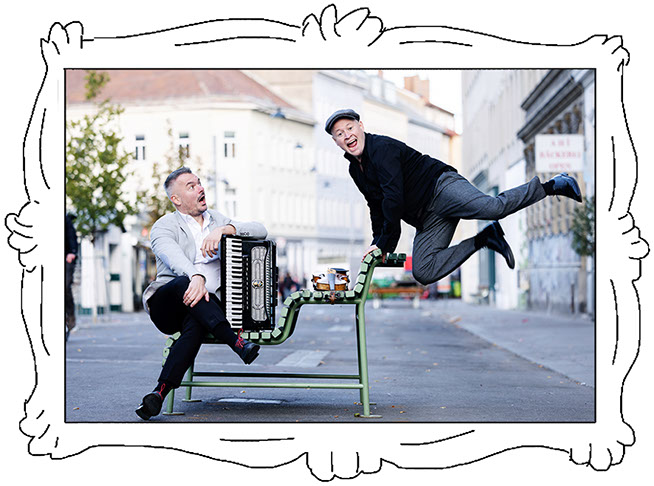 The two full-blooded musicians will take you on a journey around the globe, full of virtuosity, beautiful melodies and humor. Their music inspirations come from the Balkans, from Eastern Europe, Klezmer, Tango, Latin-American music, Central-European traditions such as Musette & the Tarantella, from Classical music & Jazz. Their compositions are rich of flavor, nuance and suspense, topped with fearless improvisation. They will seamlessly erase the musical borders, honoring these traditions with complete disregard for the rules. Nothing is taboo and nothing is sacrilegious.
Pavel Shalman was born in St. Petersburg, grew up in New York City, and since 2002 living in Vienna. Pavel started learning the violin from the age of four with his father and in 2007 he received a Bachelor from the Conservatory of Vienna (MUK). He played and recorded with Russkaja, Wiener Tschuschenkapelle, RONJA*, DelaDap & the Eurovision finalist Zoë, guest appearances with Marco Markovic, Dunkelbunt, Hansi Lang, Willi Resetarits, Jony Iliev, DJ Panko (Ojos de Brujo), as well as his own bands Global Groove LAB & Living Transit.
Born in Kraljevo, Serbia also into a musician family, the multi-instrumentalist Božidar "Boki" Radenkovic, started playing the accordion and later piano as a child. In 2005 he received a Master in Belgrade and in 2013, a Master from the University of Graz in jazz guitar. He played and recorded with Juan Garcia Herreros, Wladigeroff Brothers, Georg O. Luksch (Grammy Award), Kompromis 69, Austrianski Turbo Brass Band, Stjepko Gut, Eddie Luis, Efrain Toro, Jazz Passengers, RONJA*, Zoë, Monika Ballwein, Global Groove LAB and the Jazz Bandits.
Pavel Shalman - violin
Boki Radenkovic - accordion, guitar & vocals
Bokirino - Official video
World Music Festival Wr. Neustadt
Musikalischer Adventkalender